Yesterday I walked into the bathroom, washed my face, turned around, walked out and mid-stride lost feeling in my left foot and eventually up my leg. Yes dear friends - somehow in the comfort and safety of my own home, AND in bare feet, I twisted my ankle standing in the bathroom.
*shakes head as face turns red*
Of course this led to me taking an Advil
(two and I'm down for the count aka lightweight)
, and then having to put my foot up as the Chef made dinner and shook his head. I don't even blame him. All I have to say is everything my dad told me about getting older is coming true and I don't like it one bit. Creaky bones, twisted ankles, fine lines around the eyes, and lamenting the past. Did your past include shades of pink? Mine sure did. At one point in high school I think pink was the predominant shade lining my closet in it's various hues.
It is, coincidentally, the color of my ankle right now, too. Sigh
.
While I was laid up on the couch I decided to torture myself yet again and peruse Isabel Marant's spring line. It appears as though I'll be renewing two past relationships - one with the color pink and the other with slouch boots.
Bonjour mes amis. Il est bon de vous voir de nouveau.
(hello my friends. it is good to see you again)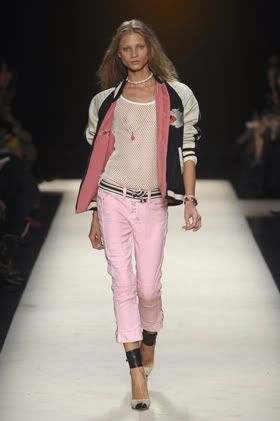 Jacket and Pants? High School.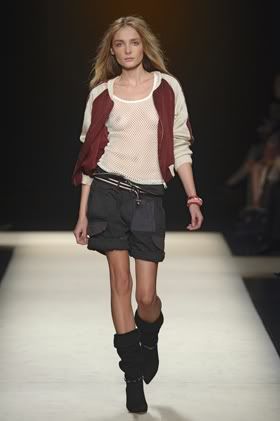 The return of the bomber jacket.
Are those friendship bracelets strapped around the boots?
The boho dream lives on.
And, as always, completely dripping with class.
This is black and white chic done impeccably.
I've still not recovered from the
sequined pants
she created for Fall/Winter 2010/2011. I scour sales hoping to include one piece from her runway collections. So far no dice, but it sure is fun to watch from afar and look for ways to incorporate her styling vision into what I already own. Enjoy! It was hard not to post each and every look.
Okay I can't help it - I have to include one more:
The dress, the boots, the belt - perfection!